---
Introduction
---
Young Book



Young Book - making it unique


---
Contessa
Contessa, the master of the Castle
Contessa means Countess in Italian. It's a tribute paid by Kelly Brown to the last master of our amazing Castle Ceconi, the iconic venue where Graphistudio hosts worskhops and round tables with photographers from all over the world. Contessa represents the fifth essence of the Matted Album, featuring HD printing, solid oak wood cover, real Italian leather spine.
SIZE: 13X9.5″ PRINT: CANON DREAMLABO HD PRINT FINE ART. BINDING AND PAGES: Lay Flat, white Tintoretto bevel mat, with thick white core. Min 10, max 20 pages. COVER: Wood front panel Sequoia leather spine & back.
Materials
Leather Full grain "Sequoia" leather. Rich texture, natural look, warm feeling. Sequoia looks like a distressed surface aged by time, creating a vintage look and feel. One of the most popular choice among our clients, it's perfect for this classic product.
Matted pages Contessa features our unique Matted Album binding, with high precision bevel cut and HD printing technology. The best in terms of durability and color gamut. Available from 10 up to 20 thick pages.
---
Raw
Favola is handmade with love and is the Italian word for "fable", because our children deserve a great story where magic meets reality and maternal love will protect them forever. Everything in Favola is designed to give a vintage feeling, to transcend time and trends. The luxury leather wrap protects the album, which is hand-bound and hand-made with cotton paper; the magical look and feel are a result of the organic materials that glorify newborn photography.
SIZE: 15X12″ PAPER: Pure cotton Amalfi paper, with deckle edges. BINDING AND PAGES: Japanese, min 10 max 40 pages. Flushmount min. 10 max 20 pages. COVER: Genuine Italian cowhide leather "Etrusco" with inside cover in Suede.
A very special book, printed directly on a stunning handmade amalfi paper and bound with Japanese binding, all collected in a fabric cover.

Leather The full grain "Etrusco" leather is exclusive for the Kelly Brown Collection. The rich texture, soft surface combined with the high quality cowhide is made in Tuscany (Italy) and features a natural tanning process along with a manual staining that ensures that each piece is truly unique.

Paper Favola is the first album featuring handmade limited edition Amalfi paper. The deckled edge is created using the same ancient paper making process, very much the same workflow still used in the family owned paper mill in Amalfi (Italy). Made with 100% cotton fiber, smooth surface.
---
Wall Art
---
Mega Mats
Mega Mats The ultimate form of art in portrait photography. The Mega Mats bring the art gallery experience directly to your clients' home. Expand your artistry to the next level, bringing back photography to where it belongs; the accurate printing technology and the hand made archival mat will decore and adapt to any interior design, ready to be framed. Your stunning portraits will proudly towering over anything else!
Sizes
Mega Mats can be designed vertical or horizontal either ways. The following portrait formats therefore can be considered for landscapes too.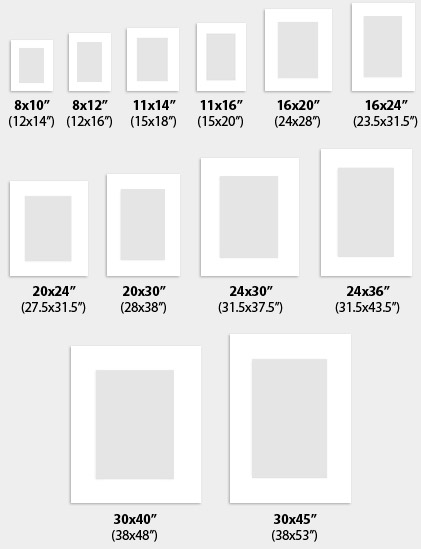 Finishing and materials
These large mats are archival certified, meaning that both the frame and the back panel are made of pure cotton paper, thickness 1/8" each, 1/4" combined). The state of the art cutting plotter ensures perfection of the bevel cut (45°) and precise mounting procedures make the Mega Mats the most beautiful gallery large print available in the market. You can also order the Mega Mats without the print. In this case the mat will come open on 3 sides with pre-placed double tape.
Papers
Lustre Photo paper: the most popular substrate since early days of photography, silver halide paper. Metallic Photo paper: a stunning ultra gloss look and feel to dramatize vivid colors and highlights, silver halide paper. HD Fine Art paper: the highest quality ultra mat substrate for an artistic "museum" finishing. The archival luxury! Ink jet paper.
---
USB
PhotoBOX
USB FLASH DRIVE

PRINTS + USB FLASH DRIVE

MATS + PRINTS + USB FLASH DRIVE

BOOK + PRINTS + USB FLASH DRIVE